Croatia's stunning Adriatic coast reveals unexpected gastronomic treasures
The renewed theoretical interest for gastronomic heritage of Dubrovnik and its countryside surroundings as well as initiatives of some single producers and tradition-lovers unfortunately have not been followed by the same interest neither by producer's educational and catering circles, or official politics and cultural institutions. In the shops and restaurants of Dubrovnik few are the products and dishes coming from its tradition and even fewer of the traditional dishes prepared with local ingredients.
As a consequence there is no joint actions of all interested groups aiming at a strategic valorising of the rich gastronomic heritage as an exceptionally valuable cultural treasure. What is missing in Dubrovnik and its surroundings when talking about the GCH is the very joint, coordinated and long-term action of all interested groups or stakeholders. Therefore, the pilot action has been designed to bring them together and to clearly present to them their role in the preservation, improvement and adequate valorisation of the GCH.
The salt works of Solana date back to Roman times, two thousand years before Christ. Starting from 1333, Ston becomes an integral part of the Republic of Dubrovnik. 
The tradition of salt collection has been handed down for over 4000 years and since then salt is produced in the same way with the sole help of the sea, sun and wind.

The choice of literature used for the desk research was at the same time easy and hard. Easy because almost every text about the Republic contains at least a couple of interesting quotes, and hard because it is quite challenging to bring all those fragments into a well-functioning unit. It seems there has been no scientific papers dealing with and defining the identity of Dubrovnik through culture, heritage and food. Let this modest beginning be a foundation stone for the future documenting of this fascinating topic that is becoming more and more current every day.
Bitter orange is a small, evergreen, very branched and thorny tree, up to 8 metres high, from the "orange family" of rue (Rutaceae). The bitter orange flowers are highly fragrant. The fruit is very juicy with very aromatic bitter and sour taste and fine flavour.
Domestic bitter orange grows in the wider area of Dubrovnik. No research or selection of this fruit has ever been done, so it is possible that there are several different sorts of bitter oranges. In Croatia, bitter orange is listed as domestic sort. There is no official seedling production so recently there are locally driven initiatives for the promotion of bitter orange. Specifically, the association DEŠA from Dubrovnik has promoted the project "Dubrovnik Bitter Orange Jam" and the Bitter Orange Day featuring a series of products of this fruit culture: marmalade, orange juice, liqueurs, various cookies and cakes.
Bitter orange appeared in this area very early. It arrived in the 10th century from East Asia over the Arab peninsula. Since then it has been domesticated and became a trademark of Dubrovnik gardens and little by little a nice gastro-souvenir that deserves a lot more promotion and attention.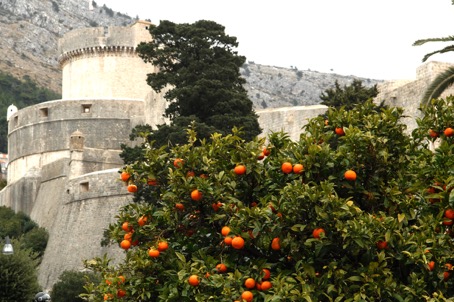 Traces of oysters growing in the Mali Ston Bay exist from the time of Roman rule in this area. The first written documents about harvesting shellfish come from the 16th century, and about the cultivation from the 17th century. These documents organize farming allocation of concessions and privileges enjoyed by growers. In the late Middle Ages, nobles from Dubrovnik would invest the money to start oyster farms in Mali Ston Bay, taking their payment in oysters instead of cash.
The Mali Ston Bay is a traditional area of shellfish farming and only two species are grown: oysters-Ostrea edulis and mussels-Muytilus galloprovincialis. The Mali Ston Bay is naturally loaded with salt, but also, the nearby Neretva River brings fresh mineral-heavy water from the karst springs into the salty bay. Moreover, plenty of phytoplankton are found in the sea floor, which as well contributes to the title of one of the world's best oysters.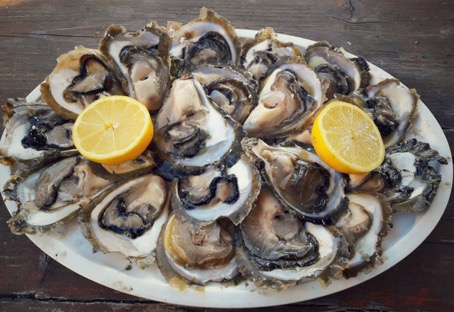 In our olive-growing area, oblica is cultivated for more than 2,000 years and it represents our largest and economically most valuable olive variety. The oil content in the fruit varies from 18 to 21%, depending on the growing area and conditions. In addition to large fruit, this variety has high tolerance to drought, grows well in poor and sparse soil and it's very resistant to strong wind – which are all reasons for its successful cultivation in our area.
In addition to the plantation collections in the town of Desno near Metković, Split and Dubrovnik, this variety is preserved in the world sort collection "Alameda del Obispo" in Cordoba, Spain and in the world collection of olive trees in the National Institute in Marrakech, Morocco.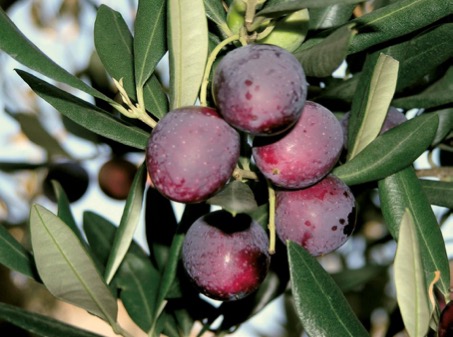 The Dubrovnik ruda sheep is one of the most endangered indigenous breeds of our region. Ruda-sheep is grown in the Dubrovnik-Neretva region as Croatian autochthonous breeds. It first appeared during the Republic of Ragusa by crossing domestic sheep Pramenka and Merino sheep imported from Spain, Portugal and Italy. This way the quality of wool was improved.
This sheep is mostly white, but there are also black. The advantage of black ruda-sheep is that it does not need colour for her wool, but it is span and knitted in its original form. This breed gives 120-160 litres of milk and is also grown for meat production. Lamb in the age of 3-4 months weights between 25 to 30 kg. In the late fall they slaughter fat sheep and rams to make traditional meat dishes since the quality of meat is exceptional.